Thassos island is a paradise on earth, with a combination of crystal-clear water beaches and a mountainous landscape full of amazing pine trees, olive groves and panoramic views of the Aegean Sea. Wherever you go, you meet around you a stunning scenery, full of natural beauties, archaeological sites, and a culture of an island with a long history.
Thassos is a pole of attraction for thousands of tourists every year, especially during summer, but it is also a perfect place for vacations during autumn and spring as well. It is very close to the main Greek land, thus the expenses to get here are very low, comparing to the other Greek islands.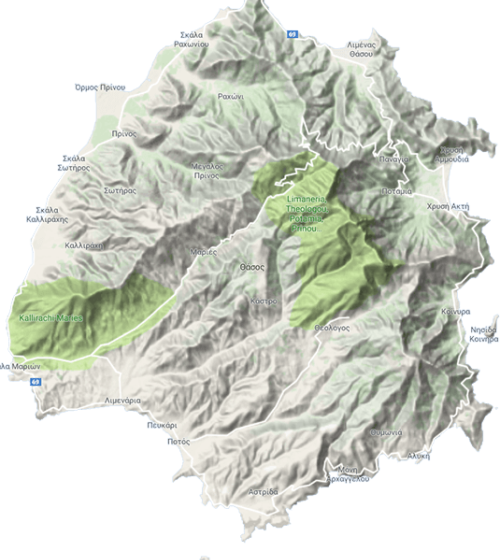 Enjoy your vacation to the fullest
A typical summer in Thassos offers endless sunshine, stunning beaches and a variety of sea and land activities that will complement your vacation and provide you with lots of fun and memorable experiences.
For the lovers of the deep there are numerous well organized & equipped scuba diving centers all over the island. The clean sea and calm water make Thassos ideal for scuba diving. Apart from the beauty of the land, Thassos has a magnificent seabed which you can explore with the help of the diving centers available in Thassos, mainly in Pefkari, Potos, Psili Ammos and Makryammos. All diving centers have qualified staff with long experience and possess the necessary equipment.
There are various archeological & cultural sites throughout Thassos island but we recommend a visit to the archaeological museum. The museum is considered one of the most important museums of the area, it exhibits collections of archeological finds from the 7th century BC to the 7th century AD.
Important findings from the Paleolithic to the Roman era paint a vivid picture of one of the most important Aegean civilizations.
In a place famed since antiquity for the maritime skills of its inhabitants, you can find several places to either rent a sailing boat or book a boat tour and a multitude of good moorings in the vicinity of the coast.
Get the chance to discover the island' famous beaches, from the historical Metalia Beach to the beautiful Giola, also known as the natural pool of the island, and many more destinations. The combination of crystal clear deep blue waters, pure golden sand and green nature will captivate you!